A Game Crash can happen when the game fails to do what it needs to do, and it will lead to this or a Game Freeze.
It can happen when you prefor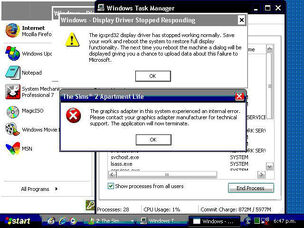 m some Glitches, download Custom Content, Downloading Mods that are not from EA, or placing Obects from one game without installing it into a another Game that has been installed. (Ex: Fast Lane Stuff into World Adventures)
A Crash to Desktop is like this, but it does not show a Message at the Desktop, so People can lead that someone Closed the game, or that It crashed.
In The Sims 2 and The Sims Stories, usually an error message will appear, clicking OK closes The Sims 2 and The Sims Stories.
In The Sims and The Sims 3 Town Life Stuff onwards, it will display the Windows error message such as Sims 3 has stopped working in Windows Vista/7.
In The Sims Medieval, The Sims Medieval: Pirates and Nobles, and older versions of The Sims 3, no message is displayed when the game crashes.
Glitches that can cause a crash
Edit